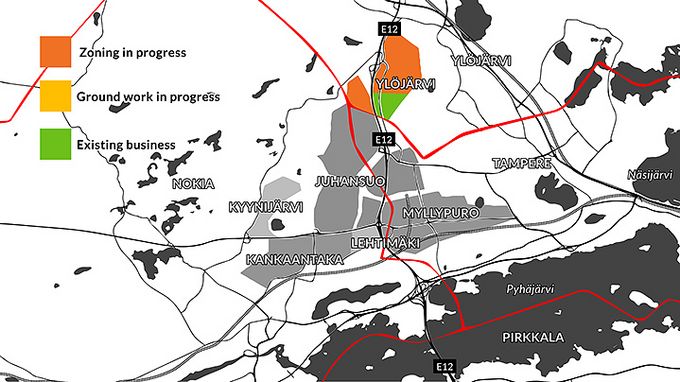 Ylöjärvi, Kolmenkulma
Ylöjärvi's industrial plots are located in the Kolmenkulma business area by the ring road. The City of Ylöjärvi is selling nine industrial plots in the Kolmenkulma area ranging from 6,642 m2 to 12,651 m2. A square metre of ground in the Kolmenkulma business area costs €17.The zoned area in Ylöjärvi has the public utilities installed, and there are currently 8 plots covered by public utilities immediately for sale. One of the plots in the city plan has already been sold.
Ylöjärvi's area in Kolmenkulma:
The plot ratio is e=0.5
Plot size is shown in the city plan
Plan notation: T (Planned for industrial facilities)
Tampereen Vesi is responsible for the area's water and sewer engineering.
More detailed information is available on Ylöjärvi's own website (in Finnish).
More information about the plots for sale:
Ylöjärven Yrityspalvelu Oy
CEO Timo Isolähteenmäki
Tel. +358 50 351 6507
timo.isolahteenmaki@ylojarvi.fi