Business lots at Kolmenkulma Eco-Industrial Park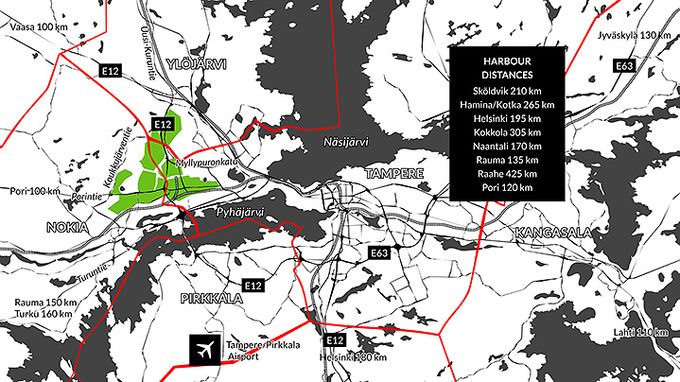 Kolmenkulma is a new cleantech business area focused on logistics, production and service provision in Tampere, Ylöjärvi and Nokia. Kolmenkulma is located along the western bypass road to Tampere. The connections to the area are excellent, and its name, 'Kolmenkulma' meaning three corners, refers to its location at the intersection of three highways and three municipalities.
Newcoming investments to Nokia's Kyynijärvi area include a major bio- and circular economy cluster, ECO3, with investments of about 60 M€ in total, i.e.
- Ecolan, ash refinery (2017)
- Ecomation, pyrolysis facility (2017)
- Nowaste, recycling of plastics and rubber (2017)
- Pirkanmaan jätehuolto, biodigester (2018)
- Nokian Vesi, waste water treatment plant (2019)
- Pirkanmaan Metsänhoitoyhdistys, biomass terminal (2018-19)
Read more about the activities and companies in the ECO3 - area from here. You may also get familiar to the ECO3 nutrient cycle model in the city of Nokia through this video.
In 2005, the cities of Tampere, Nokia and Ylöjärvi entered into regional co-operation and launched a large-scale business area project. As a result, the Kolmenkulma business area, the largest business area in the region, was established. The total buildable area covers more than 600 hectares. Together with the business areas that are already constructed, Kolmenkulma forms a business hub of more than 850 hectares. The new area is expected to create more than 10,000 new jobs.
The area is intended to be used for: Specialised stores, retail stores, service station operations, industry that produces no environmental disturbance, heavy industry, recycling and environmental industry and motor sports.
Business Tampere works in close co-operation with the business development directors of the Tampere City Region and finds the suitable plot options that meet the client's needs. Subsequently, we typically move on to direct negotiations with the municipalities that hold plots in which the client is interested.